The CDC reports that over-the-road (OTR) truck drivers are more than twice as likely to be obese when compared to non-drivers.
That's a frightening statistic.
Coupled with the inability to get much physical activity on the road, obesity can increase your chances of developing life-threatening diseases, including heart disease and diabetes.
Truck stops don't always offer the healthiest options for drivers — it's a sea of hotdogs, pizza and nachos — and drivers are forced to grab a quick option full of sodium and fat to ensure they get something in their stomachs to fuel them for the rest of their drive.
Eating on the road for every meal can really add up. You may find yourself eating your paycheck instead of sending it home or using it to boost your savings.
It takes mindfulness on behalf of the driver to stay healthy out on the road. Failing to focus on your health can result in the development of illnesses or health diseases that can keep you off the road per Federal Motor Carrier Safety Association (FMCSA) regulations.
I've been a long-haul truck driver for six years and have spent those last few years with Anderson Trucking Service (ATS). When it comes to food and eating on the road, I've done it all.
I've spent my money on truckstop food for each and every meal. I've tried cooking my meals ahead of time and putting them in my truck. I finally settled on prepping my ingredients so that I can cook in my truck every day. I've gone from spending as much as $250 on the road each week to only spending as little as $40.
And I'm a lot healthier too.
Keep reading and you'll learn about how you can not only cook in your semi-truck but how you can save money and improve your health by doing so. I'll teach you about must-have equipment, what kind of food you should pack and keep in your truck and the cooking hacks I swear by on the road.
Meal Prepping vs. Cooking On the Road
If you want to save food on the road, there are a few ways you can do it. Some drivers prefer to meal prep — cooking everything during home time and packing it into containers to take on the road — and some drivers like to cook on the road.
Whether you decide to meal prep or cook on the road comes down to personal preference, space and length of time on the road.
Some drivers simply don't want to spend their mornings and evenings cooking in the truck. Some drivers don't like to cook much at all, much less in a limited space. So, they may decide to cook a bunch of meals when they're home for a few days and pack them up. They may freeze them in Tupperware so it's easy to just pop it into the microwave when they're hungry.
Other drivers — myself included — may want that taste of home on the road, so they'll decide to cook every night.
It also comes down to space. How much refrigerator and freezer space do you have in your truck? Tupperware containers can take up a lot of space. I found that, in my truck, I could only fit about a week of meals in my fridge. Then, for the rest of the time that I was out on the road, I'd have to buy meals at truck stops.
If you only spend a week out on the road, this might work for you. But for someone who spends several weeks on the road at a time, as I do, it might not be feasible.
You'll either need to buy your meals wherever you stop, or you'll need to hit up a trucker-friendly store to pick up ingredients so you can cook. This means you might not save as much money as you could.
If space is an issue for you, meal prepping all your ingredients at home and cooking on the road might be the best option. You'll save the most money — upwards of about $200 per week — and you'll save space.
Prepping ingredients and placing them into storage bags to either freeze or place in your fridge will help you get weeks of meals packed into your cooler space.
No matter what you decide — to meal prep at home or cook in your truck — you'll still be saving more money than you would be if you ate every meal of the day out on the road.
Keep in mind that if you want to cook on the road, you'll need the permission and power to do so. If you're leasing your truck, there may be certain appliances you aren't allowed to use.
An inverter and an auxiliary power unit (APU) will work together so you can easily operate all your appliances. An APU allows you to use your bigger appliances without requiring your truck to be on. This will save you money by cutting back on idle time and fuel expenses.
The appliances you do use should be lower wattage so that they don't use too much power at once and prevent you from using anything else.
Prepare Your Ingredients
Cooking on the road takes a little bit of planning ahead. You'll want to plan out the meals you want to eat for the next few weeks on the road so you can pick up all the ingredients when you're at home.
Keep it simple: Protein, veggies and some type of grain will keep you satisfied for lunch and dinner. For breakfast, you can opt for an easy option like oatmeal or cereal, or cook something like bacon and eggs.
Healthy snacks for truck drivers, like fresh fruits and vegetables, nuts, trail mix and protein bars, are easy to grab. You can either cut fruit in advance and place it into storage bags or grab fruit that doesn't require cutting, like oranges, apples, bananas and berries. You can also save money by making your own trail mix.
Buy your meat in bulk — or a protein alternative if you are vegetarian/vegan — and cut it into smaller portions. Place each serving into a bag. Do the same thing with your vegetables. If you like to eat rice with your meals, you can easily bring a bag with you and portion out your servings each day.
Pay attention to sales when you're purchasing ingredients at the grocery store and try to eat seasonally. Eating produce when it is in season will save you a lot of money in the long run when compared to buying it out of season.
When you get into your truck for your next run, all your bags of prepared meats, veggies and fruit should stack nicely in your fridge and freezer.
Cook It
Each morning, decide what you want to eat that day. Perhaps you want a meal in the slow cooker, you want to make lunch on your portable stove or you want to cook with your electric skillet at dinnertime.
As you wait for your coffee to brew (as long as you invest in a small coffee pot for your truck), plan out your meals and prep your ingredients if needed. For instance, move your meat from your freezer to your fridge to let it thaw so it's ready to cook.
If you're cooking with a slow cooker or a portable stove, you'll be able to toss your ingredients in and forget about it until it's ready. Just be sure that you have your stove or slow cooker in a secure spot so it can't spill or go flying while you drive.
A TV tray — or equivalent — is a great, affordable purchase that will give you prep space. Keep a cutting board in your truck, too. It gives you even more space to prep. You could also lay tinfoil down on surfaces to protect them.
Be sure you keep all your favorite spices in your truck with you so you can always season your food as liberally as you desire.
Then, do your thing and get your chef on! With all the food cut and prepped, it should just be a matter of dumping and flipping a few things before you're ready to have a great meal. A few handy tools, like a can opener, spatula, knife, tongs and stirring spoons will help you get the job done easily.
Clean It
Keeping your truck clean is crucial when you're cooking for yourself on the road. Make sure you have disinfectant with you — whether you keep it in a spray bottle with a rag or you carry wipes — or both. Wipe down your hands after you handle meat, along with the surfaces it touches. The last thing you want while on the road is a bad case of food poisoning.
Disposable plates and cutlery make clean-up easy. You can buy these in bulk and store as many as you need in your truck. A glass container or two will come in handy in case your eyes were bigger than your stomach and you have leftovers.
If you prefer an eco-friendlier option, keep a plate, utensils, and bowl with you that you can wash every night.
You can clean your dishes with disinfecting wipes and then wash them off in the truck stop. You can also choose to bring a few gallons of water with you and some dish soap and wash your dishes outside your truck with a scrub pad and dry rags.
And be sure you have lots of paper towels in your truck!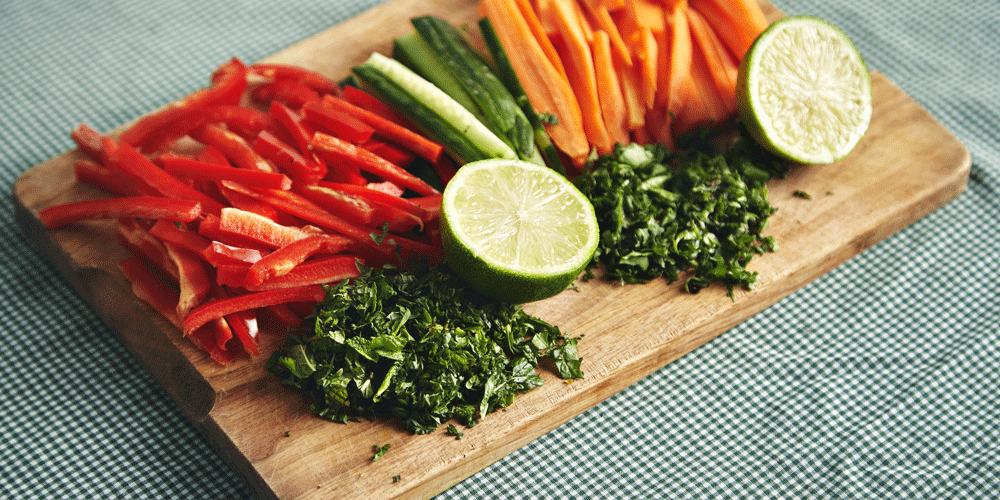 Must-Have Truck Driver Cooking Equipment
If you're cooking on the road, there are some tools you simply cannot go without. They'll not only make the job easier, but they'll allow you to cook a variety of different foods in different ways. The top cooking equipment for drivers includes:
Small slow cooker
Electric skillet
Portable stove
Microwave
Small air fryer
Coffee pot
Disinfecting wipes
Disposable plates
Cooking utensils (spatula, tongs, spoon, etc.)
TV tray
Cutting board
Spices
Cooking spray
Paper towels
Storage bags
Multi-purpose appliances, like a pressure cooker, boast multiple cooking capabilities and save tons of space in your truck. Invest in multi-purpose appliances if you can and your trucking carrier allows it — you'll be happy you did.
Depending on the food you enjoy most, you may also want to invest in a small single-serving blender, a grill (for those lazy Sundays on the road when you get to the truck stop early and want to hang out outside your truck while grilling up some burgers), a mini waffle maker and a toaster oven.
When bringing pots and pans, try to bring as few as possible to save space.
Packing a wide array of spices will give you plenty of flavor variety — especially if you're sick of eating the same meat/veggie combo every night.
Also, consider that there will be some nights when you simply might not feel like cooking a gourmet meal, but you also won't want to spend money at a restaurant. Pre-made meals, like canned soup and chili or pasta and rice pouches, can be easily stored in your small food cabinet for a quick meal that doesn't cost you a lot.
Keep On Trucking!
There are some upfront costs associated with cooking on the road, but it will be well worth it in the end when you save nearly $1,000 per month on food. Shop smart by checking out local deals and comparing them to online retailers. You will find that you can get a lot of what you need for not a lot of money.
You'll not only be taking more money home every month, but you may also notice an improvement in your health if you cut back on eating processed foods every night at the truck stop. Plus, cooking every night will give you a taste of home, and it might even be soothing for you after a long day on the road.