Imagine being able to test out driving in poor weather conditions before you ever get on the road in your rig. Imagine being able to practice your backing skills without ever worrying that you'll run into something and damage your truck or trailer.
Well, with truck simulators, you actually can do all of these things and more. These impressive pieces of equipment are designed to simulate the truck driving experience so that you can safely practice your skills.
Have you ever been a bit worried about your skills behind the wheel? Maybe you're new to driving and you aren't sure if your skills are up to par. Maybe you're a veteran driver who is looking to brush up on your skills and learn a few new things. Truck simulator training is designed to help drivers at every phase of their careers.
In this article, I'll explain what a truck simulator is and three ways it can benefit you. When you're finished reading, not only will you be itching to try out a simulator, you'll also be excited to practice your skills.

What is a Truck Simulator?
A truck simulator is a replica of the dash of a Class 8 truck. It has all the primary functions that your truck's dashboard would have, but instead of being out on the road, you have several screens in front of you. The ignition, the gears, the steering wheel with your horn and turn signals — it's all there.
The simulator feels like a real semi. It moves and tilts and vibrates. If you were to hit something during a simulation or run over a curb, you would feel it. It also simulates the feel of the road — whether the road is bumpy or snow-covered. Because it can simulate the feel of the road during inclement weather, it's an especially helpful tool for drivers who have never driven in snow but will have to moving forward.
Truck simulator equipment can be set up as different truck models. Depending on what division you're in at your company, you can learn in the simulator with a dry van load or a flatbed load. In fact, simulators are utilized in numerous industries. There are airplane simulators, dump truck simulators, construction equipment simulators and more.
To simulate a true driving experience, the truck driver simulator has several screens that are designed to show you what you would see on the road ahead of you as well as in your various mirrors.
The truck simulator is designed to enhance your skills, so it should be more difficult to drive the simulator than your semi-truck out on the road. The simulator can be tailored to be more rigorous than a semi itself. For example, shifting may be more precise when drivers are learning how to operate a manual transmission.
An hour in the simulator is comparable to two or three hours out on the road. The simulator is testing your skillset and building your knowledge base, so it requires extreme concentration.
Truck simulators test your knowledge and put you through teaching scenarios to help you not only improve things like your backing and turning skills, but to help you learn more about perception and safety on the road.
Your simulator sessions are recorded and you'll receive numeric feedback when completed. Your instructor can review your progress and observe your driving behaviors during the tests. There is also a camera in the simulator to observe things like whether or not you looked in your mirrors. After you go through the various scenarios, you can sit down with your instructor and talk through best practices and tips for success.
Keep in mind: The numeric feedback is not used against you and it isn't used to dock your pay. It's simply used to help your instructor understand where you could refine your skills.

How is a Truck Driver Simulator Used? 3 Ways Simulator Training Improves Your Skills
Truck driver simulators are a great training tool. Because of this, they can be used for new drivers and veteran drivers. In fact, some training companies even utilize them heavily in their commercial driver's license (CDL) training programs and have a dozen or more drivers using them at once.
A truck simulator is used in three primary ways:
In orientation
After an accident
To break long-lasting habits
Practice Your Skills In Orientation
Truck simulators are primarily used in orientation. New drivers attend orientation at trucking companies every week and, while every company is different, many companies will test their drivers with a road test and simulator training.
Drivers will go through scenarios on the simulator to assess different skills and behaviors, including backing, turning, braking, intersection behaviors, tight maneuvering and hazard perception. The simulator measures your ability in each of these areas.
If there is a section of the assessment that you aren't strong in — let's say your backing skills need some work — your instructor will teach you valuable strategies to improve your skills. They'll also take you through another road test to ensure you meet the minimum orientation requirements to drive for the company.
The simulator can also be very helpful if you're switching from van driving to flatbed driving or vice versa.
Train On Your Problem Areas Following an Accident
If you've had an accident, getting in the truck simulator is the perfect opportunity to take some time to practice those skills that may have led to the accident. If you have a dash cam in your truck, your instructor can review areas of improvement or behaviors that nearly led to accidents. Then you can work on those behaviors in the simulator.
Training in the simulator following an accident will not only improve your confidence when driving in those scenarios, but it'll also help keep you safer on the road and prevent costly accidents.
Speeding and following too closely are common causes of accidents out on the road. Rear-end accidents can be among the most severe. The simulator can take you through activities that teach you to open up the space cushion in front of you and improve your perception and cognitive response. It'll also help improve your feel for how long it takes the brakes to activate and the distance it takes to stop.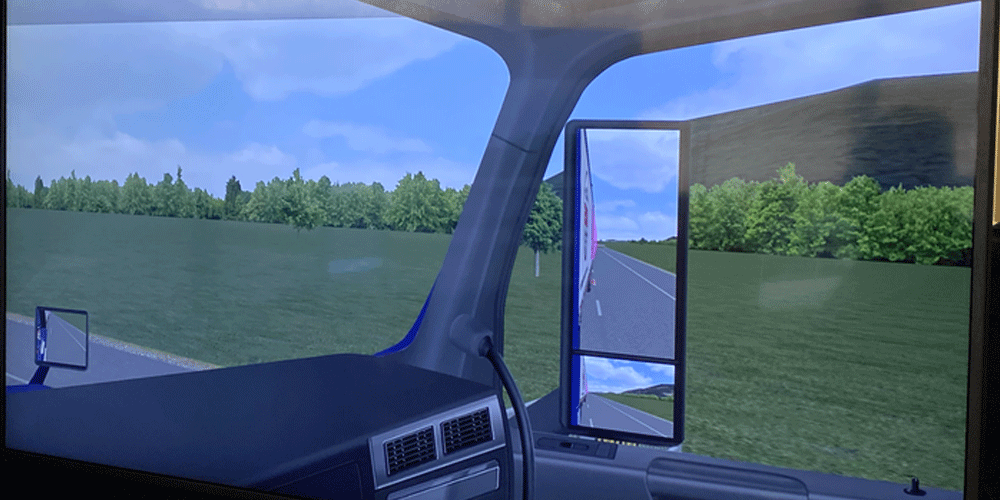 Perhaps one of the most important features of the simulator is that it offers you the option to pull off the road. Not only will it help you learn how to handle your truck in slippery, snowy conditions, but it can also help you learn when the conditions are so poor that you need to make the call to pull off the road.
As you progress, your instructor will pick certain scenarios they want you to go through to hone your skills.
Improve Your Skillset After Years On The Road
Even drivers who have been in the industry for decades find that the truck simulator can help them improve their skills. As a driver, you build driving habits — some of which might not always be the safest. Maybe you've gotten lucky and haven't ever gotten into an accident despite this behavior.
Getting in the simulator can help you look at those behaviors and improve upon them. Or, the simulator can help you become more efficient on the road with minor improvements.
Think of a professional athlete. A professional baseball player might have an excellent batting average, but that doesn't mean he stops going to batting practice. As a professional baseball player and a professional driver, you have to continue to hone your skills to ensure you're always on the top of your game and performing optimally.

Prevent Accidents Out On the Road Using a Simulator
Truck driver simulator training is a great way to improve as a driver and test out driving scenarios you've never experienced. It gives you a safe environment to learn new strategies on the road to improve your safety and your efficiency.