Receive the Reliable Flatbed Shipping You Deserve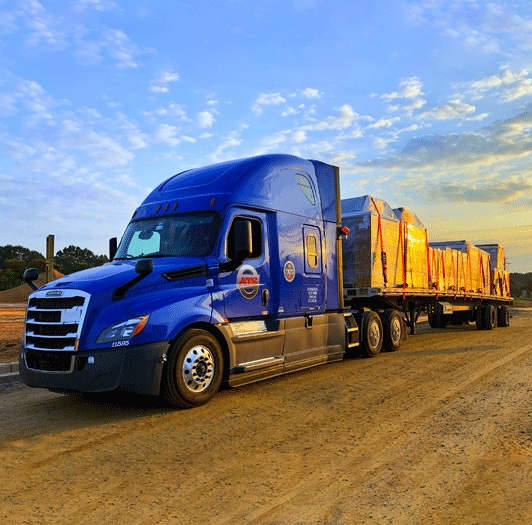 Protect your bottom line and keep production running efficiently by meeting delivery deadlines on time, every time.
At Anderson Trucking Service (ATS), we hold ourselves to high service standards, starting with our strict Driver hiring requirements and ongoing safety and securement training to ensure your freight arrives on time and claim-free.
Flatbed Shipping That Keeps You in Control
Waiting for available capacity to fit your unique freight needs shouldn't be the norm. Gain control of your shipping schedule with a diverse open-deck trailer fleet that has the flexibility to quickly move capacity when and where you need it.
And stay in control of your freight by relying on:
Electronic Data Interchange (EDI) tracking that can integrate with your EDI systems
Real-time tracking and visibility of your freight using our online Customer Portal
A single point of contact to keep you in the loop if you don't have EDI systems — or just want to talk to a real person
Find Out Which Open-Deck Trailer Is Right for You
As a shipper, it's important to understand how many open-deck trailer varieties are available to you, the ways they can be customized and the additional considerations you need to think about to ensure your over-dimensional and heavy haul freight arrives on time and in perfect condition.
We have the resources and expertise to help you choose the right open-deck trailer for your next project. We encourage you to bookmark them for easy reference.
Understand what goes into finding the right open-deck trailer: Start here for your comprehensive overview. Learn about the common types of open-deck trailers available, how you can modify them for your needs, everything you should consider and what a flatbed or heavy haul carrier should do to make sure you have the right equipment.
Your at-a-glance Trailer Selection Guide: If you're unsure of whether your next project will require you to ship via removable gooseneck (RGN), lowboy, step deck, drop deck or another trailer type, and you want an easy-to-understand visual reference, this guide's for you.
Determine what size heavy haul trailer you need: Learn the minimum threshold of what's considered "heavy haul" and a simple equation that will help you determine how many axles your trailer will need.
The U.S. Environmental Protection Agency recognizes ATS Specialized, Inc., as a Registered SmartWay® Transport Partner — Partnership Date: 03/05/2013; SmartWay ID: 30886024 — Expires: 03/04/2021